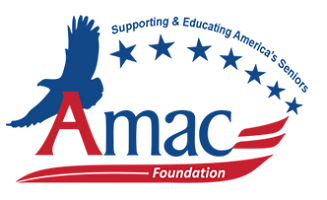 Americans on the threshold of retirement—along with those beginning to look long-term at their retirement plans—are faced with a bewildering array of options, policies, and decision criteria that must be evaluated to ensure that they make the right choices at the right time. Guidance to navigate these bureaucratic waters is scarce, often limited to simple assistance in completing the forms necessary to activate the decisions that must be made. Advice on what is right for the individual is difficult at best to come by.
AMAC recognized this situation, and formed the AMAC Foundation, a tax-exempt non-profit [501(c)(3)] organization designed to broaden older Americans' understanding of our country's Social Security and Medicare Systems. The Foundation is dedicated to assisting older Americans in understanding the options available to them as they make life decisions.
Generally speaking, the Foundation is organized to help protect and ensure the financial security, health, and social lives of current and future mature Americans through information, education, and research on Social Security, Medicare, and related issues.  The Foundation's vision is to serve as a source of guidance for an ever-growing segment of America's citizenry, especially those having questions, concerns, or information needs relative to the choices facing them. To accomplish this, the Foundation's projects and plans include:
Providing factual information that improves understanding of the positive value of Social Security and Medicare and the current and long-term challenges these programs face;
Tracking current and proposed legislation and public pronouncements on Social Security and Medicare and assessing the impact of these developments on older Americans;
Providing interpretations by Certified Social Security Advisors through AMAC publications, workshops, webinars, podcasts, and telephone support;
Providing interpretations and guidance on the impact of the Patient Protection and Affordable Care Act and other healthcare legislation affecting mature Americans, including ways to maximize benefits and minimize penalties; and
Serving all Americans in a variety of capacities, including provision of a source of education on the principles of American Free Enterprise, long-term retirement financial planning, and preparing for life—and potential employment—after retirement.
Philosophically, the Foundation embraces the principles of the free enterprise system and recognizes the role that free enterprise has played historically in achieving prosperity for America. The Foundation also recognizes that many Americans share their wealth to help those who are less fortunate, who do not have the resources to obtain the help they need, or who may have reached an advanced age. Accordingly, the Foundation seeks to offer an outlet for this philanthropy by encouraging potential benefactors to play a part in achieving its vision of service to Americans.
There are many for-profit enterprises across the country to provide service to wealthy Americans as they deal with their individual decision-making tasks; unfortunately, many older Americans cannot afford the fees associated with these private enterprises. Accordingly, the AMAC Foundation is designed to provide assistance to at-risk older Americans with low to moderate incomes at no charge.
With AMAC Founder and President Dan Weber overseeing the Foundation's launch, we experienced a baptism of fire, so to speak, with the planning and execution of our June, 2014 National Health Care Symposium in Washington, D.C.. The Symposium was a highly-acclaimed two-day conference that brought together some of the most highly-regarded voices in America's health care debate and focused attention on the problems facing health care in the years ahead. We've followed that major event up with a series of public seminars and activities designed to build our footprint as a senior support organization, and detailed our progress in the Annual Reports that can be accessed from our Foundation website.
The Foundation's Online Presence
Operation of the Foundation's two informational websites, the Medicare Report (MedicareReport.org) and the Social Security Report (SocialSecurityReport.org), continues on a daily schedule, collecting and posting news accounts of issues affecting these two areas  and providing a wealth of background information and guidance on these vital programs.
Along with operation of these two sites, the Foundation's online presence are strengthened a multi-faceted website (AMACFoundation.org) designed to serve as a conduit for a constituency seeking current information about activities, schedules, and accomplishments.
Dealing with Financing
The Foundation is registered as a 501(c)(3) public charity, having received its Internal Revenue System designation in mid-2013. As a charitable organization, one of its primary initiatives involves appealing to the public for funding to develop the capacity critical to its mission of building and delivering services that will enrich the lives of America's seniors. This mission involves providing information and education designed to protect and ensure the financial security, health, and social lives of current and future mature Americans, and it's a mission that provides focus to everything we do.
In order to fund the Foundation's operations during its start-up years, AMAC's Member Services Representatives implemented an opportunity for new and renewing members to become aware of the Foundation and to encourage their contribution of financial support for its work. This latter step has proved enormously successfully, and has been instrumental in enabling us to deliver productive services during our brief time as an organization.
Since that time, we've embarked on a concentrated effort to encourage additional financial support from major funding sources—other Foundations, Corporate contributors, etc.—with a pledge to build on our early-year successes and to make the Foundation a source of critical assistance to America's seniors. As part of this approach, we've registered the Foundation on Guidestar, the non-profit world's premier information service specializing in reporting on U.S. nonprofit companies. We were able to attain "Gold Level Participation"…the highest level of participation available under the program.
Other Projects the Foundation is Taking On
Beyond the larger steps we've taken, the Foundation is also focusing attention on the delivery of a seminar series designed to cover specific topics of importance to America's seniors. For example, to-date we conducted seminars on "Protecting Yourself from Investor Fraud" seminar, "Detecting, Preventing, and Reporting Medicare Fraud," and "Sudden Death: Are You Prepared?" designed to assist constituents in preparing details for loved ones to carry on in their absence.
Planning for additional seminars on critical and informational topics is a continual process, resulting in the delivery in 2015 of the first in a series of "AMAC Connects Technology for Seniors" programs. The first edition of covered Windows 8 and the difficulties most people face when experiencing this operating system for the first time. Additional sessions are on the drawing board for the next few years.
Our objective with this seminar approach is to progressively build our brand—the AMAC Foundation brand—in small increments, while building resources in the background for the major initiatives of the future.  While our initial intent is to offer these projects locally in our Central Florida operating area, we have a long range objective of using live streaming technology via the AMAC network and the Foundation website to propagate the information across the country. Likewise, we plan to record and archive portions of the material for on-demand access through the Foundation's website.
Distribution of the Foundation's 2015 flagship project, the "Who's Who in Social Security" book published during the latter part of the third quarter of 2015 continued throughout the fourth quarter of that year. Working through contacts in Washington, the book is being distributed to all Congressmen and Senators, as well as to a wide range of media outlets regularly reporting on Social Security-related issues. In order to make the book's content available to a wider audience, a PDF version was installed on the Foundation's website for downloading, and the content was digitized for access via the Social Security Report website.. Initial feedback on the publication was extremely positive, and has enabled the Foundation to further expand its footing in a variety of areas.
For a complete look at what the AMAC Foundation has accomplished in its first two years, take a look at our Annual Reports, available for viewing or downloading here.
Looking Ahead
While we've been able to produce effective deliverables to-date, all of us on the Foundation staff are optimistic about what lies ahead and about what we firmly believe we'll be able to offer in the way of services to our constituency…America's seniors.